Actions speak louder than words, results more than rhetoric. Peter Costello summarised it perfectly this morning. Wayne Swan really is out of his depth. Last year, Mr Swan promised no less than 500 times that he would deliver a budget surplus this year.

Senator Scott Ryan spoke in strong opposition against the Gillard Government's attempt to regulate the media and stifle free speech in Australia.


So-called surplus slipping away
Wednesday, 6 June 2012.
It has taken less than a month and Wayne Swan's promised surplus is already in trouble.
Media reports suggest that the Government is already preparing to dump its surplus commitment in the face of overseas economic trouble. Labor are yet again making excuses. But they cannot say they didn't see this coming.
 The Labor Government has had warning after warning about serious problems overseas, but that hasn't stopped it wasting the inheritance of the previous Coalition government. Julia Gillard and her team have turned $70 billion of net assets into more than $130 billion of net debt.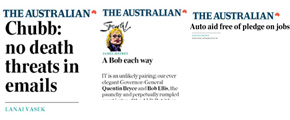 The past fortnight has played host to the annual budget estimates hearings before Senate committees. The Coalition has been pressing Labor ministers and bureaucrats about government spending, borrowing and program administration.
My discoveries this week demonstrated this Government's bizarre priorities. While Prime Minister Gillard has blown $53,000 on private blogs that don't even allow comments; budget cuts have forced her own security agency to downgrade its focus on Europe and the Americas at a time of significant global instability.
We also managed to finally get hold of some on the Government's promised small business commissioner. For hardworking small business people who were hoping for a real advocate with teeth, unfortunately they are going to be severely disappointed.
Finally, a Department of Finance official admitted to me that the Government was being sneaky and dishonest with their carbon tax ads. Neil Mitchell reported on it, as did The Age.
It was great to welcome Tony Abbott to Melbourne's West, once again. We had the opportunity to visit Westbourne Grammar School in Truganina, where Mr Abbott addressed a high school assembly and we visited a grade two Japanese language class.
Mr Abbott's commitment to Melbourne's West has certainly not gone unnoticed and in recent months he has stopped by in Flemington, Moonee Ponds, Deer Park, Broadmeadows and Williamstown. It was pretty cheeky for the Member for Maribyrnong Bill Shorten to tell a recent local business breakfast that the Liberal Party leader is yet to visit the area. Keep your eyes open Mr Shorten, you might just spot him – if you look carefully.