Actions speak louder than words, results more than rhetoric. Peter Costello summarised it perfectly this morning. Wayne Swan really is out of his depth. Last year, Mr Swan promised no less than 500 times that he would deliver a budget surplus this year.

Senator Scott Ryan spoke in strong opposition against the Gillard Government's attempt to regulate the media and stifle free speech in Australia.


Countdown to the budget and carbon tax
Thursday, 19 April 2012.
10 weeks till the carbon tax
My colleagues and I have been out and about in the lead up to the federal budget, telling the truth about the Australian economy. I joined Tony Abbott and Shadow Minister for Innovation, Industry and Science Sophie Mirabella at the Sleepmaker factory in Deer Park on Monday. We learned from Sleepmaker management that their state-of-the-art bedding factory will be hit hard by the carbon tax. Worse still, Sleepmaker will be forced to compete against off-shore manufacturers that will not be saddled by a great, big carbon tax.This is dire news, particulary for workers and families in Melbourne's west, who are battling with higher than average unemployment.
Today, Tony and I visited Modern Baking Company in Broadmeadows. Tony showed real skill on the packing line and we heard from employees who were grateful the biscuit manufacturer had been bailed-out after going into administration earlier this year. The bail-out meant  around 180 jobs in Broadmeadows – where the unemployment rate is more than 12 per cent – were saved. Unfortunately though, Modern Baking Company's state-of-the-art factory is going to suffer, like other businesses small and large, from the Government's toxic carbon tax.
 Countdown to the budget
It is less than three weeks until Wayne Swan hands down his fifth budget. Rest assured his performance on Tuesday, May 8 will be filled with smoke and mirrors. Take a look at this quick guide to the 2011-2012 budget and to Australia's economy more broadly. It tells a very different story to Labor's.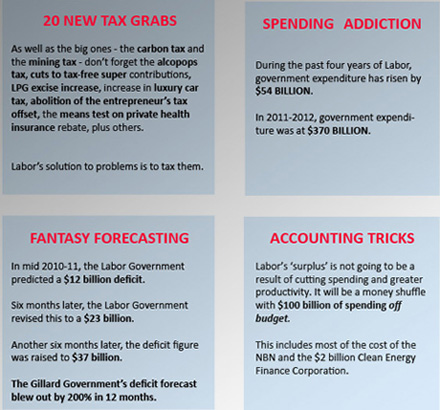 The Modest Member
You may be aware that The Australian Financial Review has resurrected its Modest Member column. The Modest Member column was first written by former Liberal Member for Wakefield Bert Kelly during the late 1970s. Kelly, who passed away in 1997, was a staunch advocate for free trade. Earlier this year, The Australian Financial Review decided to resurrect the column and so, on a fortnightly basis, me and my colleagues, Kelly O'Dwyer and Jamie Briggs, take it in turn to discuss an economic issue of concern.
 
I have so far had two pieces published, one reminding readers of government's limited ability to predict the future and the second about deciphering "budget-speak". To read the articles, click here and here.